Tamarindo, Costa Rica Travel Guide
Located in the Guanacaste Province on Costa Rica's Pacific Coast lies the town Tamarindo. Tamarindo is known for its incredible beaches, excellent surf, crazy nightlife, and much more. Tamarindo has a very laid back lifestyle and there is always something to do in this little surf town. If you are planning a trip to Costa Rica, I highly suggest adding Tamarindo to your list of places to visit! 
When to visit Tamarindo?
I traveled to Tamarindo during the wet season in June and honestly it was perfect. There were no big crowds of tourists and it only rained a few times while I was there. It would rain for about one hour in the afternoon and then clear up just in time for sunset. The wet season runs from May through mid November. Tamarindo's busy season is late November to late April which is when you will find the most tourists soaking up the sunshine because it is the dry season. The temperatures in Tamarindo range from 80 to 100 degrees fahrenheit year round. 
Things to do:
There are endless things to do while you visit Tamarindo. If you are interested in going on excursions to nearby areas there are tour providers as well as rental car agencies that you will be able to choose from to explore. If you are more interested in checking out the town, there are so many different activities to do in Tamarindo as listed below.
Go to the beach
One of the most popular things to do in Tamarindo is head to the beach. Whether you are going to catch some waves, soak up the sun, or watch the sunset you will not be disappointed. Playa Tamarindo is the main beach in the town and a short distance away is Playa Grande to the north and Playa Langosta to the south.
To get to Playa Grande Beach–Go to Playa Tamarindo and walk to the right if you were facing the ocean until you hit a river mouth where you can hire one of the boats and pay 500 colones per person (86 cents USD) and a local will bring you over to Playa Grande Beach by boat. (20 second boat ride across the river mouth) *** Word of Advice from the locals "DO NOT try to swim across the river mouth because there are crocodiles" ***
To get to Playa Langosta– It is about a 20 minute walk to Playa Langosta on the road but it could turn into an even longer adventure like it did for me because of the heat. I would recommend renting a bike to go there because bikes are only $5 for the day and will save you a lot of time! To get to the beach head to Selina's in town and then continue to walk past it away from the town center on that main street for about 20 minutes. You will come to a series of signs and paths which are all different entrances to the beach.
Ocean playground
Did someone say a playground in the middle of the ocean for free? You read that right!! One of my favorite things to do while I was in Tamarindo was to grab some friends and swim out to the playground that was in the middle of the ocean. 
To get to the playground–Go to Playa Tamarindo and look out for the island, the playground is right in front of the island. It is a little bit hidden because of the boats so if you can not find it, just ask a local and they will point you in the right direction! Make sure you are a strong swimmer if you head out to the playground and never go alone. Hire a surf board or ask a local to bring you out and back by boat if you are worried.
Surf
Tamarindo is an extremely popular destination for those who love to surf. Playa Tamarindo, Playa Langosta, and Playa Grande are all prime locations to catch some waves. From early morning sunrise sessions to surfing into the sunset my friends were never upset with the conditions in Tamarindo!
Night Market
If you happen to be in Tamarindo on a Thursday night then I would suggest heading to the night market. The night market is on every Thursday from 6pm-9pm and includes fire dancers, live music, food from around the world, shopping, and much more. It is located within walking distance from the town center. 
To get to the night market–It is located in the parking lot of Plaza Palmas which is where Tamarindo Fitness is located. To get here it is about a five minute walk past the Falafel Bar in the opposite direction of the town center.
Tours
If you are ready for an excursion but not in the mood to go through the process of planning it then just head straight to Carlos at Loco Tours. Loco Tours is the best tour operator in Tamarindo and is all about creating the best experience for customers. Carlos is awesome and will help you set up the perfect excursion with everything that you want to do and see in Costa Rica. Whether it is something as small as seeing a sloth to something as big as flying to another part of Costa Rica in a helicopter, he is there to help you have the best experience. Loco Tours has insurance coverage as well as certified professional tour guides who are bilingual. 
Go shopping
Tamarindo blew me away with the amount of things I wanted to buy when I went shopping. The heart of Tamarindo is filled with an array of different shops and boutiques that cater to all individuals. From clothing to souvenirs to jewelry to surf gear and everything in between. It is the perfect place to do all of your gift shopping and even to treat yourself to some new clothes! Check out some of my favorite shops in the next few shots.
Watch the sunset
What is better than sitting on the beach watching the sunset with a beer in your hand in Costa Rica? Sometimes the simplest pleasures can bring out the happiest moments. I loved sitting on the beach at sunset not only to watch the sun go down but to experience and soak in the purest moments. Watching little kids giggle as their dads threw them into the ocean, seeing couples so in love, watching wild horses gallop around the sand, seeing the locals offer surf lessons, and so much more. It was these moments that I captured each and every night that were so simple yet brought me so much happiness. All that I know is you have to enjoy a sunset at Playa Tamarindo because they are more than just a sight, they are an experience.
Make some jewelry
One day when I was walking around town shopping, I came across the coolest little hidden jewelry store called Urban Eclectic Jewelry. All of the jewelry in the store is handmade and crafted by the owner Tricia. I had the pleasure of meeting Tricia and learned that she offers jewelry making classes where you can go into the store and custom make your own jewelry that you can bring home with you!! A perfect activity to do on a rainy afternoon or to give yourself a break from the sunshine.
Hit the Town
Tamarindo is well known for its crazy night life so make sure you spend a night hitting the town while you are visiting. There are always happy hour specials so I recommend starting your night at a beach side restaurant for some happy hour drinks. In terms of places to go out later in the night, there are a handful of different options. Sharky's is the infamous spot to go for some karaoke and a club scene. Girls drink for free on Monday and Saturday at Sharky's. Pacifico is another spot to hit for some dancing, make sure to check out salsa night here! One last club to check out is Crazy Monkey which will have an entrance fee but everyone gets to drink for free on Friday nights until 11pm. Lastly if you would rather day drink then make sure to check out the Beach and Pool Crawl that happens every Sunday.
Where to eat?
Tamarindo has so many different places to eat at with spectacular views and local food. There is an amazing range in food choices as well to keep everyone you are traveling with happy. When I was in Tamarindo, I only ate out for breakfast and lunch so my recommendations do not include any dinner places. Although I know you will have no trouble finding restaurants with amazing food because there are endless! Just ask a local, they will know best! Here are some of my favorite breakfast and lunch spots.
Santa Rita Cafe
My all time favorite spot to grab breakfast or lunch while I was in Tamarindo was the Santa Rita Cafe. It hands down still has the best iced chai I have ever had! The cafe is located in the heart of Tamarindo and is the perfect place to enjoy some food with friends or get some work done. Check out the full article I did on them here.
Nordico Coffee House
Nordico Coffee House is also an unreal place in Tamarindo to go to enjoy some coffee, breakfast, or lunch. Nordico was one of my favorite places to go to do some work because they had awesome wifi. Not to mention their customer service was beyond amazing. They have specials going on everyday which brings them to the top of my list of places you should check out!
Costa Juice
If you are looking for individuals who take the time to perfect your meal then look no further then Costa Juice. Where you will get top quality meals that are as fresh as can be. When I went to Costa Juice I went to just grab an acai bowl but fell in love with the atmosphere of the cafe which kept me going back. I remember they always had their AC on high too which was the perfect escape from the heat. It sounds silly but a lot of places do not have AC which means dripping sweat while you are trying to eat which is no fun.
El Mercadito de Tamarindo
El Mercadito was probably one of the coolest little hidden food gems in Tamarindo. It is pretty much an outdoor food cafeteria with a bar in the center. There is a range of food places here such as pizza, sushi, poke bowls, vegan food, ice cream, and so much more. It is also open from 11AM-11PM so you can enjoy dinner here too. I found myself here when my friends and I were all in the mood for different meals. It is also cheaper than going to a sit down restaurant.
Tips
Water
My advice when it comes to water is not to drink it. Everyone's bodies react differently so even if one person is fine drinking the water, you still might not be. I did a lot of research on the water in Costa Rica and came across a lot of different answers. Although they pretty much all went back to knowing what specific place the water is coming from. A lot of the sites say it is "generally" safe to drink the water which of course is a very vague statement. In addition, you never know what pipes your water is coming from and when the last time they were cleaned is. My recommendation? Bring a water bottle on your trip and when you arrive buy a huge jug of water that you can find at any local supermarket or convenience store and then fill up your water bottle up!!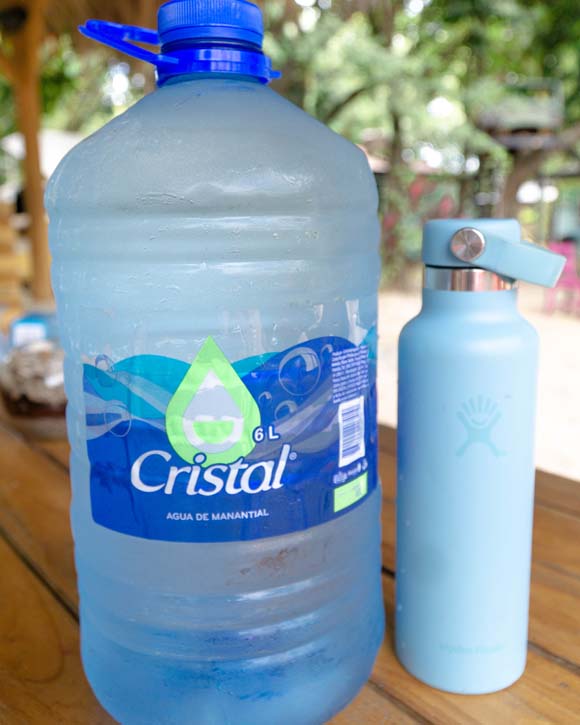 Money
The currency in Costa Rica is called Colones and $1 colones equals $0.0017 US dollars. I would recommend always having Colones on you because some places will not accept credit cards or US dollars. A majority of places will take your US money but will most likely rip you off so your best bet is to just pay with colones.  
Phone
Depending on how long you are traveling to Tamarindo and Costa Rica will most likely determine what you should do for a phone plan while you are there. I was in Costa Rica for about three weeks and chose to keep my American phone plan there. I have Verizon so set up an international surcharge of $10 a day if I turn off airplane mode. This was perfect for me because I always kept my phone on airplane mode and relied on wifi. Although if there was an emergency or I wanted to use my phone, I could come off airplane mode and pay $10 a day. 
Another option is to buy a sim card while you are in Costa Rica. You can buy a sim at almost any store and it is super easy but you will have a new phone number. 
One last option is to travel with an old iphone and to buy a sim once you get there. You put the sim into the old iphone and then create a personal hotspot on it which you will connect to with your current iphone. This way you will not have to change your phone number and can connect with home by facetime video/audio.
My advice is to go with option one of just changing your phone plan with your home provider if you will be in Costa Rica for two months or under. If you plan to travel for over two months then I would consider one of the other options to save yourself money. Also, if you will constantly need to be connected to the internet then I would change your plan with your home provider or get a sim card.
Laundry
If you are traveling to Tamarindo then you most likely will need to do laundry at some point. If the place that you are staying at does not provide you with a washer and dryer then I have the perfect place for you to go to clean your clothes. The Laundry Tamarindo is the perfect laundry shop in town. You drop your clothes off in the morning and they will have your clothes washed, dried, and folded by the end of the day. I went there throughout the duration of my trip and could not be happier with how clean my clothes were. My only tip is not to give them anything that you do not want to shrink because your clothes will go in the dryer. To determine how much it will cost, they weigh your clothes on a scale. I filled my entire canvas bag as pictured below and it cost me about $12 usd. It might seem a little pricey, but honestly it saved my clothes and a lot of money in the long run. The Laundry Tamarindo is located in the Las Palmas Plaza where the night market is also located right past The Falafel Bar.
Lastly…
Before you plan your trip to Tamarindo, I do want to let you know that it is a bit more expensive than other areas of Costa Rica. This is because of how developed the surf town is and how popular of a destination it has become. I hope that my guide to Tamarindo has helped you throughout your current or future travels in Costa Rica.
Comment below if you have any questions or have your own favorite spots, things to do, or travel tips for Tamarindo!