Welcome!
My name is Kenna and I am the voice behind Chasing Sunshine. You're in the right place if you:
Care about helping and bettering the environment through sustainable initiative

Are interested in supporting and giving back to local communities

Are keen for an educational tour for yourself or children in MA

Want to plan a vacation but need guidance 

Are looking for a new destination to travel to

Love all things travel
Now, let's take it back a few steps…
Who am I?
I was born and raised in Gloucester, Massachusetts and am the youngest of my family with an older brother and sister. We were brought up fishing and lobstering on our dad's charter boat and all have a deep love for the ocean.
I graduated from college in May of 2018 from the University of Massachusetts, Amherst with a hospitality and tourism degree (Go UMass!). Since graduation I have worked as a waitress in my hometown, moved to Australia twice, lived in Costa Rica in a tent for a month, and traveled to several new places. My passion for travel started in college and has since blossomed bringing me to six countries and over fifteen states in just two years.
Over the past few years, I have gone against societal pressures in order to follow my heart and in turn chase after my happiness. Throughout the process, I have developed a profound sense of compassion for our environment, helping local communities, and giving back. My hope is to Reverse the Narrative and focus on how together we can change our initiatives to better the environment and society we live in through the choices we make.
Why Chasing Sunshine?
When the sun shines on your face, when it warms your back, when that sensation pulls you out of the moment for an instant, where do you go? Who do you think of? For some people, it's a vacation on the beach with friends. For others, it's a memory from their childhood, or something as simple as the smell of the ocean breeze on an early summer morning.
For me, there are endless places that my mind wanders to in these moments, but there is one person who is always there. Her name is Janelle Lavender Tobin – the inspiration behind Chasing Sunshine.
Throughout my best friend's battle with cancer, Janelle taught me that life is precious beyond words, and we must live in the moment chasing after what brings us pure happiness. As I travel through the world I am chasing after my sunshine, my purpose, and my happiness while simultaneously sharing Janelle's silver lining in hopes to inspire others.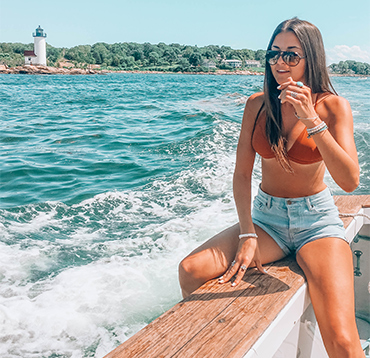 Kenna O'Maley
Chasing Sunshine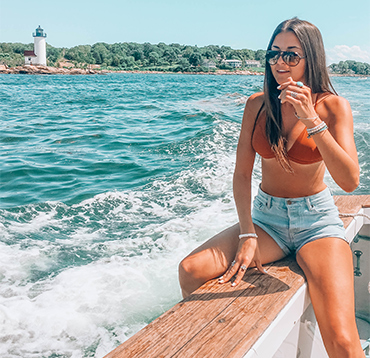 Kenna O'Maley
Chasing Sunshine