Top 6 Best Acai Bowls in Bondi
Acai Bowls have become one of the biggest trends and it is no surprise why! These delicious bowls are made from acai berries that are pureed to the perfect consistency. They are then topped with an array of fruits, granola, and an assortment of other toppings. Depending on where you get an acai bowl, there are limitless variations that can be created by cafes. Making it that much more exciting to find the next best bowl.
I would be lying if I said that searching for the best acai bowl in Bondi was an easy task. For the past month, I have been on the hunt to find the best acai bowl in the area. To be honest, the bowls just kept getting better at each new cafe I found. Although I have finally narrowed down a list to my favorite bowls in Bondi based on price, toppings, size, and taste. 
#1 Preach Cafe
Location: 112 Campbell Parade
Price: $17 w/bananas, berries, granola, and passion fruit Add Organic Peanut Butter $2
Located in the heart of Bondi, Preach Cafe is one of my top choices for best acai bowls in the area. Preach cafe has an unreal aesthetic and is located directly across the street from the beach. Making it the perfect spot if you are looking for a break from the sunshine. The best part about this bowl was the acai blend and passion fruit. The peanut butter was a great addition as well!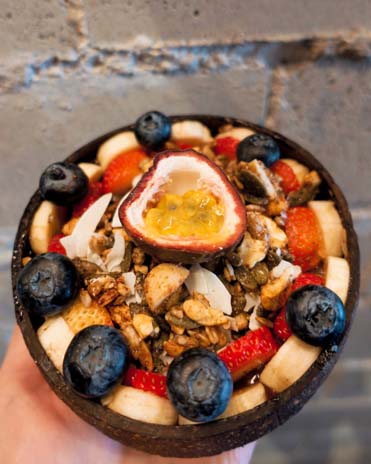 #2 XS Espresso
Location: 99 Hall Street 
Price: $12 w/banana, strawberries, kiwi, granola, shredded coconut, chia seeds, almond flakes, and honey ADD peanut butter or a scoop of protein $2
Another great selection for an acai bowl is XS Espresso located on Hall Street. Their acai base was blended to perfection with delicious toppings. I recommend adding the peanut butter if you are a pb fan like myself! I loved how much was included in this bowl for the price and it was delicious so quickly made its way into my top six favorites. Side note, try the avo toast here…it's bomb!

#3 Oakberry
Location: 1/82-92 Gould Street
Price: small $11(choose 3 toppings) medium $13(choose 4 toppings) large $16(choose 5 toppings) array of options for toppings…you can find the list here
When you travel with your best friend from home then you also drag her with you to get an acai bowl everyday. Hannah's absolute favorite bowl was from Oakberry! At Oakberry they serve their acai bowls in cups which differentiates them from competitors. They layer the acai and toppings as well which makes it much easier to eat on the go. In addition, Oakberry has a huge selection of toppings so you can not go wrong getting a bowl from here.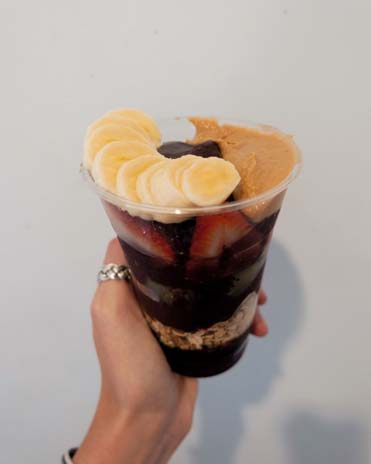 #4 Speedos Cafe
Location: 1/126 Ramsgate Avenue
Price: Acai Bowl – $18 (banana, grapefruit, veganola, blueberries, kiwi, strawberry passion fruit) Pitaya Bowl – $17.90 (mango, coconut, veganola, strawberry, passion fruit, banana, kiwifruit)
Speedos Cafe was awarded the most instagrammable cafe in the world so if you are looking to spark up some foodie instagram posts then this is your spot. Also the cafe's view of Bondi Beach is unreal so you are paying for more than just the bowl. Seriously, the perfect spot to sit and enjoy your bowl while watching surfers run by and waves crash on the beach. The acai bowl here was filled with fresh fruit and perfectly topped with a good portion of granola. Hannah also enjoyed the Pitaya bowl which I have included in a picture below!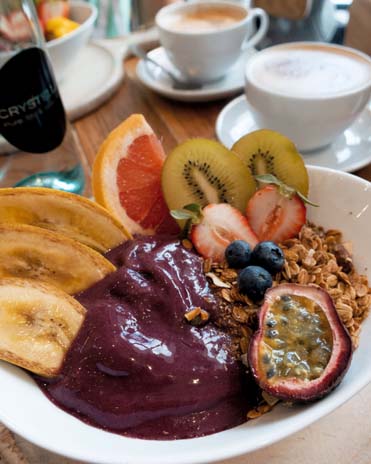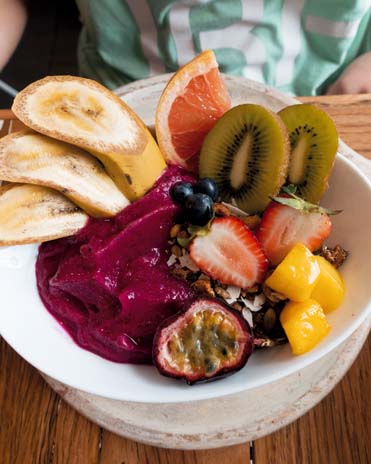 #5 Bobby's Corner
Location: 1/30A Hastings Parade
Price: $15.5 w/bananas, berries, and granola
Saving my favorites for last of course!! Bobby's Corner is at the top of my list if you are looking for a cute atmosphere to enjoy your bowl. Not only is the acai super tasty but the customer service here was top notch! The acai base was my favorite mix out of all of the places that I have tried so far and their granola was house made so of course super yummy! Do not miss out on a stop at Bobby's Corner while you are visiting Bondi.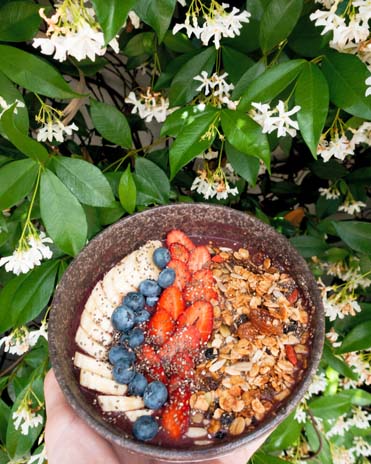 #6 The Fruitologist
Location: 151 Bondi Road
Price: $13 w/granola, banana, strawberry Extra Toppings range $1-$3 *Gluten Free Granola available
If you are looking for the cheapest and biggest acai bowl then look no further than The Fruitologist. The acai bowls here are huge and the toppings are always so fresh. I have already found myself back here three times since I first found it, making it my go-to spot for acai. They do not have a real seating area here yet, so I like to walk down the street to the beach to enjoy my bowl!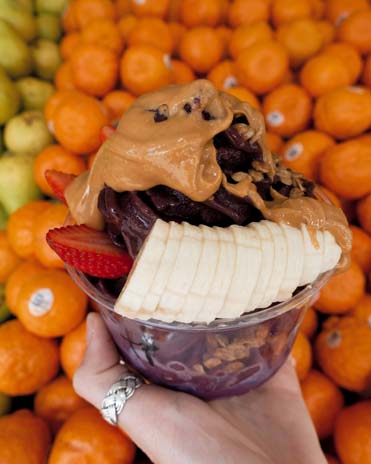 Friends my search for the next best acai bowl has not stopped yet so I will continuously update this article with my new findings. If you have any recommendations for places for me to hit in Bondi, comment them below!