How To… Find the Cheapest Flights
If you love to travel but hate spending money on flights, then you are in the right place. 
Finding time to travel and money to spend on a vacation always seem to be the two most common obstacles when individuals are looking for an escape from everyday life in a new destination.
It seems that most people I talk to always complain that booking flights somewhere can be draining, stressful, and expensive. Although it does not have to be like this if you follow some simple steps that I have learned throughout my years of travel. Everyone has their own process when booking flights and I am here to show you exactly what my process is. 
Today, I will use November 18, 2019 as my travel day and will act as if I am traveling from Los Angeles, California to Sydney, Australia. 
Step 1:
Download the Hopper App on your phone (seriously this is the BEST travel app I have came across for booking flights) 
The Hopper App allows you to put in your flight criteria and it will give you price predictions and list out different airlines flights. My favorite part about this app is that it will predict if the prices will rise or drop and tell you when the best time to book is. If you enable notifications and add the flight to your track list, the app will send you a notification on the cheapest day it predicts to purchase.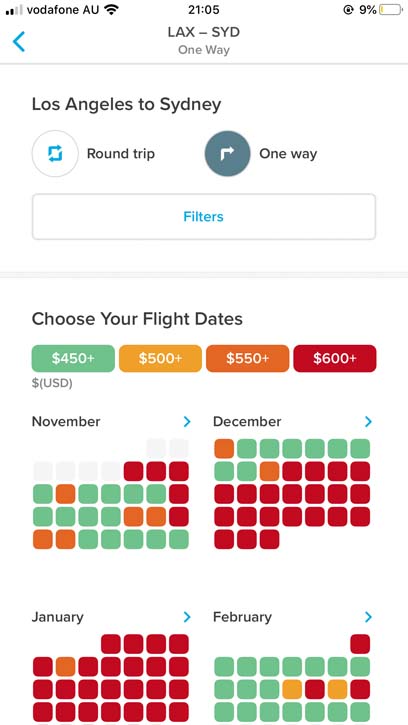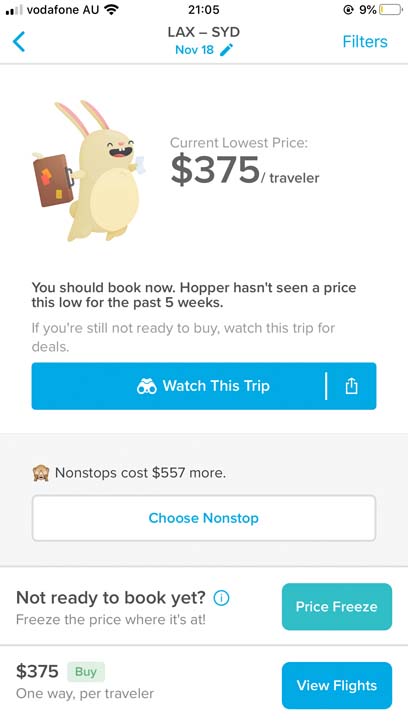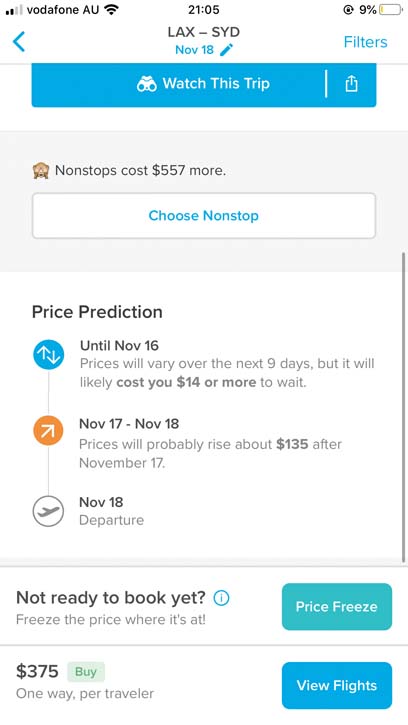 Step 2:
Go to Google Flights and check out what google has for airfare pricing.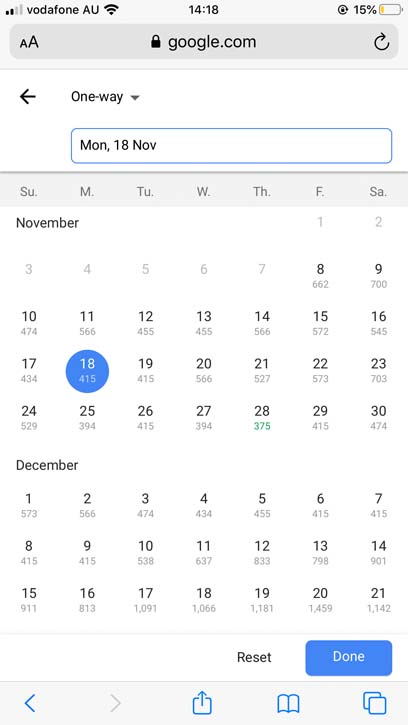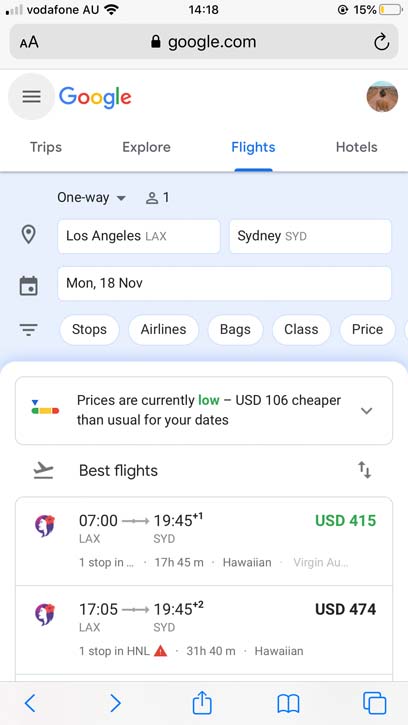 Step 3:
Go to www.skyscanner.com and check out what Skyscanner is looking like for pricing.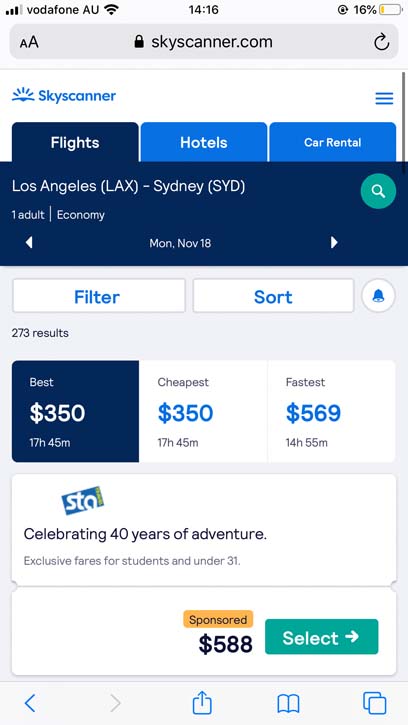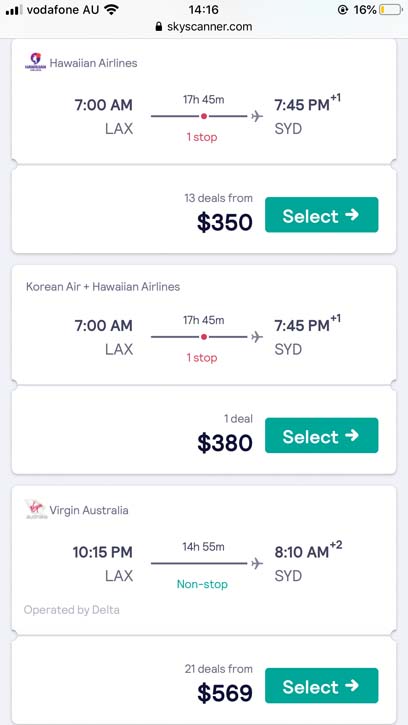 Step 4:
Go to www.momondo.com and check out what there pricing is looking like. Momondo searches the most airlines in the world and is said to come back with the cheapest flights 92% of the time.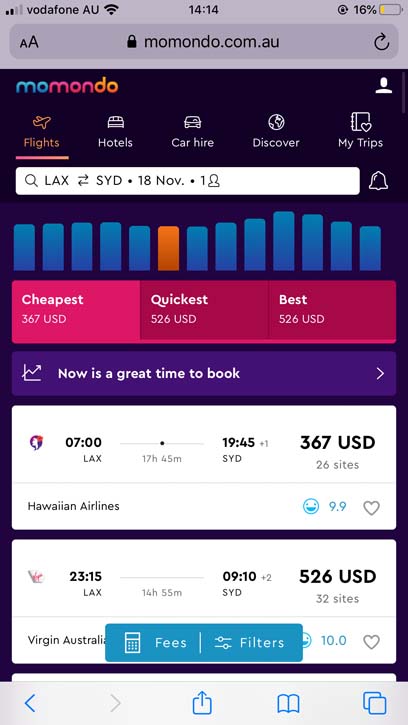 Step 5:
I saved the best website for last of course! www.studentuniverse.com is the ultimate spot to book flights if you are a student OR you are under the age of 26. Seriously I have saved hundreds of dollars from booking flights through this website. It is said you save 20-30% off flights when you book here. All you have to do is enter your flight criteria and it will list out the cheapest, fastest, and best flights they have available. When you book on student universe they will email you your specific airline reservation code as well as a student universe code.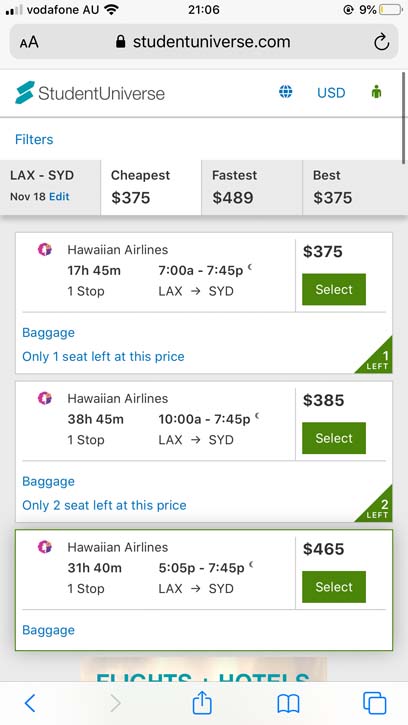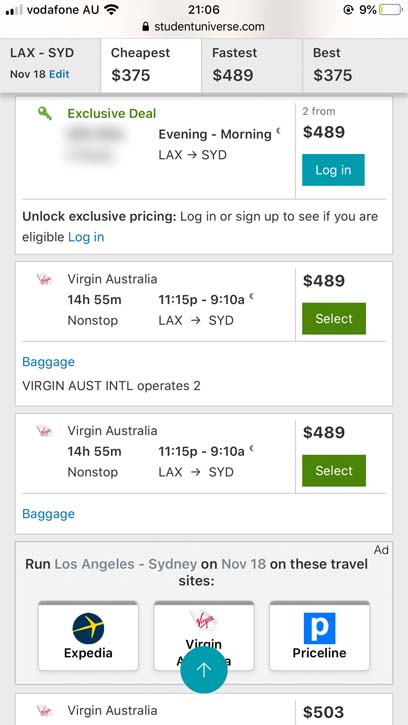 Step 6:
My method of booking flights is not a one day process if I am looking for the cheapest way to go. In reality, I am repeating these five steps daily for a good chunk of time before my desired travel day. I keep track of pricing in a journal just in case the price starts to drastically rise.
Analysis:
After doing all of these searches, each of the websites have pretty similar prices between $350-$415USD for a one-way flight from LAX-Sydney on November 18, 2019 flying on Hawaiian Airlines. The flight is this cheap because there is a layover in Hawaii, it is an early morning flight, it is not peak season yet, and the flight is on a Monday. I was flexible when searching for this flight but I do know we can not always be flexible. No matter the situation, try to follow these six steps for the cheapest prices.
Extra Helpful Hints:
Avoid flying on the weekend

Avoid flying during the holidays

Book an early morning or late night flight–they are cheaper because no one wants to fly these times

Book about 6-8 weeks before your trip or 3 months if you are flying during the busy season

Fly during the middle of the week

Search ticket prices as one person

Book two one-way tickets rather round trip

Be flexible with the days you are traveling

Accept having a layover for even cheaper flights

Check your flights daily and keep track of prices in a journal or on your phone

Open an airline credit card (I have a southwest card and love the perks)

Create a sky-miles account and earn points towards free flights in the future 

If you are going to fly a budget airline such as Southwest, Jetstar, Spirit, etc. make sure they are not up-charging you in checked luggage, carry on baggage, and extra fees. If they are add up the flight price and extra charges to see if it is still cheaper than a leading airline.

Some say booking flights on Tuesday is the cheapest way to go but I rely on the hopper app price predictions. The whole book on a Tuesday thing is a myth in my opinion.

Mix and match airlines that you are flying. For example it might be cheaper to fly your first leg on Delta and your second leg of a flight on JetBlue.
What airlines do I use?
Delta

Jet blue

Southwest

Virgin Australia

Air New Zealand

Hawaiian Airlines
If you follow my steps and extra tips above then you are on the right path to finding the cheapest flights. If you have any questions or need help booking a flight, reach out to me!